Interview was prepared by Graveworm (for Atmosfear #19)
Hi! You starts in 1995, but after recording one demo you going to nowhere for more than ten years. Where you been all this time?
Hi! Bartek and Darek, the founders of the band, decided on a break. They started families and needed a more stable life. It lasted for quite a long time but fortunately, their dreams about playing in the band never vanished, just stayed dormant for a while.
How long you played Black Metal and when you understand that it's time to change the style?
Divine Weep had been a black metal band until the reactivation. In the meantime, Bartek Kosacki was working on heavy metal material, so it was probably finalized after 2005. We haven't totally said goodbye to those black metal roots, though. They're visible on our new album 'Tears of the Ages' and the new single 'Austere Obscurity' which will premiere at the beginning of March 2017.
Your first album, "Age Of The Immortal" (2013), was not officially released?
'Age of the Immortal', our first heavy metal material, has not been published by any label. We distributed a small number of CDs on our own and now it is available in mp3 format for chicken feed.
How you find Ukrainian label and make deal with them?
It started with the opportunity to include our single on a compilation published by Metal Scrap Records. The deal went through and, as we were in the middle of recording our new material, we thought: 'Why don't we try to publish a full album there'? We sent our offer to a few labels, but Metal Scrap Records offered us the best deal on publishing 'Tears of the Ages', it provided promotion and media support. In spite of the fact that our manager had already known the owner of the label, we did it all the traditional way, sending our album for evaluation.
The album was released also by Stormspell Records in USA. How you think, where your music more popular, in Europe or in America?
'Tears of the Ages' was originally published by the US label for a short period of publishing cycle. Currently, the only distributor is Metal Scrap Records. I believe that both in Europe as well as in many countries in North and South America, metal music has been on the roll again. We have a lot of feedback from listeners from Western Europe, but also from the US, Chile, Mexico or Brazil, who listen to and enjoy our music. They often leave positive comments on our Facebook and YouTube accounts.
Tell me more about new album, "Tears Of The Ages", please. As I understand, it's like a compilation of all your tracks, because here also presents tracks from the demo and first album?
'Tears of the Ages' includes some pieces previously available on 'Age of the Immortal' as well as the bonus single 'Age of the Immortal', recorded later for promotional and video purposes. It also contains some new pieces like: 'Fading Glow', 'Never Ending Path', 'Last Breath', or the theme song 'Tears of the Ages'. So we could say it's a compilation of the ideas which we had after the reactivation, but which were ready in their final versions only around 2015. It was dictated by various factors, like the problems with finding a vocalist after reactivation or playing our first concerts that seriously limited our composing time.
You has covered Iron Maiden songs for a lot times. What their album you think is the best? What cover you has played you think is best? For me it's "Fear Of The Dark".
Our earlier work was often compared with Iron Maiden style. In my opinion, it was not entirely right. On the other hand, we probably added to the situation ourselves by recording those bonus covers. We've been trying to cut ourselves off those comparisons and we finally feel we've manged it only now. Our current heavy metal is inspired by many genres, from black and death metal to German and British heavy metal. We also draw from film music and everyday music that surrounds us. Quite often, some interesting melodies can be inspired by something not connected with metal at all. Many renowned metal musicians were inspired by classical and jazz music and it's only natural. It's most important to have many inspirations and arrange the ideas your way. When it comes to Iron Maiden, who we listen to as well, it's hard for me to choose their best album, but I like eg. 'Fear of the Dark' that you've mentioned, or 'Powerslave'.
I saw you has tour around Poland. You live close to Belarus and Ukraine. How about come to us with the few shows?
We're developing each and every day. Each year we're in a completely different place so it's hard to predict what it's going to be like in the future. For now we've prepared the second part of our Polish tour and we're going to play in 12 big cities. At the moment we're also slowly working on our plans for some gigs abroad. Our initial plans for this year assume visiting Germany and Slovakia. What's going to happen later? We'll see. Maybe this interview will be read by some organisers or bands who would enjoy our music and would like to help us to appear abroad? We're open to any offers.
What is your favorit Polish band? I remember Kat, Turbo and Dragon. Marek Wojcieski, was one of my favorites, R.I.P.
I really like the older material of Kat. Currently, they're probably not in their best shape, but as a legendary Polish band they're outstanding.
One of the last good news is the reanimation of old cult festival Metalmania. How much times you was there and planned to be in the future?
Unfortunately, we haven't had a chance to appear at Metalmania. I'm really interested in that festival, its future and potential further editions. Unfortunately, Polish metal festivals are generally in a difficult situation. We had discussed our appearance at Metalmania with its organizers. We'd been really close to playing there, but finally, Metal Mind management decided on heavier sounding bands and classic heavy metal didn't go through. We hope for a better outcome in the future.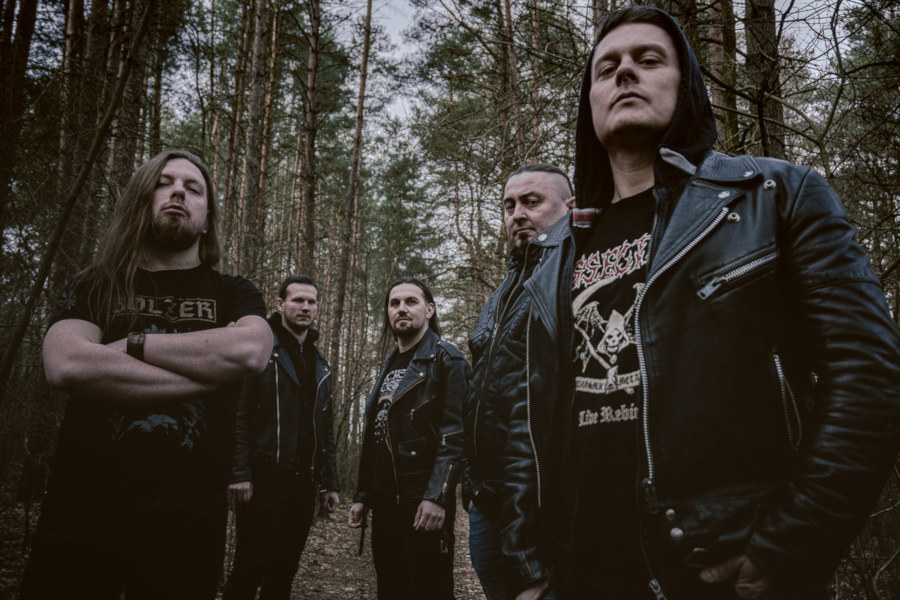 I never heard about bands from Białystok. Do you have Metal scene there?
I'm really surprised by that opinion! Białystok is well-known in Poland for its metal tastes and bands. Some of those bands are currently inactive, but this is the place were eg. Hermh, Cinis or Via Mistica were created. Białystok is the place were top Polish metal bands like Vader, Behemoth, Decapited or Hate record their albums. When it comes to concerts, the best known one is Brutal East Festival, which is one of the biggest metal club festivals in Poland. We played a gig there during its latest edition.
Thanks for the interview! Few words to the end?
Thank you for the interview. I'd like to invite everyone to our Facebook fanpage www.facebook.com/divineweep, so we could stay in touch! I hope we'll continue our dynamic progress, so we could meet in person soon! Take care!